Note: this species is currently under development! It may not be complete and everything is in flux!
Species Overview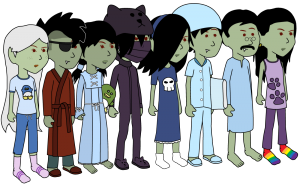 Imp Jr. are a race whose members physically look like imp children who hail from Candy Island. Despite being composed entirely composed of children Imp Jr. maintain a functional society with roads, schools, public parks.
Size: Small
Land Speed: 35
Ave Height: 4'6"
Normal Height Range: 4'2" 4'10"
A Day in the Life
Imp Jr. life is very similar how an eight year old child would imagine adult life. Imp Jrs. live in a fully functional city full of fireman, police, construction workers, doctors, bankers, bakers and all other sorts of jobs that one could take pride in their work and their contribution to society.
Psychology
Imp Jrs. function similarly to adults with many childish mannerisms. Imp Jrs. value friendship, teamwork, and honesty. Imp Jrs. do not understand or respect personal space like many of the bigger humanoid races, and will often climb the bigger people to get a better view.
Life Cycle
Imp Jr. Life is deeply intertwined with their bed. Before an Imp Jr. is born into the world, other Imp Jrs. must construct a bed and bedroom for him or her. This act is performed with great consideration as the design of the room will greatly influence the personality and occupation of the Imp Jr. who awaken within.  For example a brightly colored room with paintings of fire trucks and dalmatians could be the home of a brave firefighter, while a dignified colonial style room with keys to the city would make a great room for the mayor. Once the bedroom is finish it is only a matter of time before an Imp Jr. awakens in the bed. Upon awakening in his or her bed, an Imp Jr. has indepth knowledge about the world.  He will be born with at with an education somewhere between a high school and a doctoral level of education depending on what his needs are for the career that he is to pursue. He will also know his name, along with any other pertinent information such as various important locations around town, including where his place of employment is.
Arts and Crafts
While home to many talented artisans most Imp Jrs. enjoy taking part in elementary school level arts and craft projects, such as making finger turkeys and putting rhinestones on blue jean jackets.
Tech and Magic
Imp Jr. technology and magic is similar to other cultures at this time period.
Society
Love
Imp Jrs. are known to date casually. Deeper levels of romance are lost on their society.
War
Imp Jrs. society has never participated in a war. They have been known to engage in water balloon skirmishes.
Death
If an Imp Jr. dies, he awakens in his bed believing the incident that he died from was just a bad dream. If an Imp Jr's bed is destroyed he will grow up like a regular imp.
Political Structure
The Mayor is the defacto leader of Imp Jr. society.  More to come.
Traditions
Clans and Family Units
Because they awaken in their beds Imp Jrs. do not have a family in a tradition sense.  Larger beds and bunk beds will accommodate sibling Imp Jrs, and imps that share a household will often regard each other and cousins and other more distant family.